IDEX NEWS: Boeing Pitching Jet Trainer 'Derivative' to US, International Customers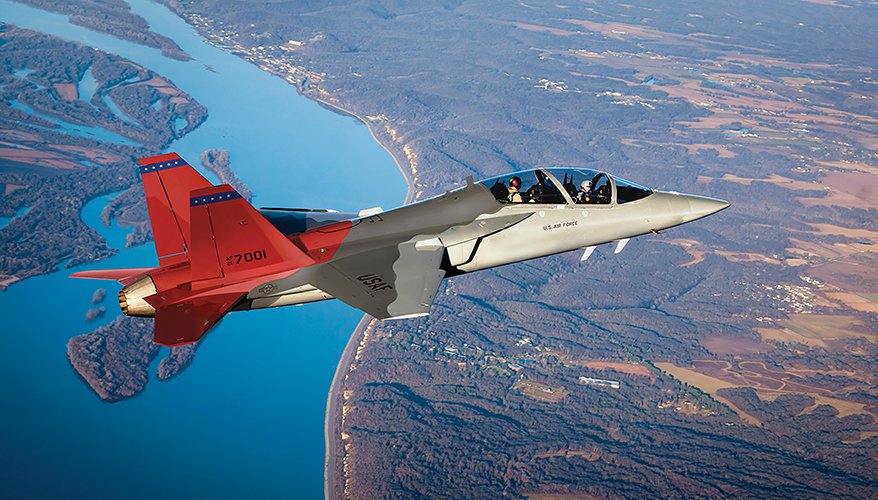 ABU DHABI — Boeing is eyeing opportunities both in the United States and abroad to develop a "derivative" of the upcoming T-7A Red Hawk jet trainer, a company official said.

Boeing is gearing up for the production phase of the U.S. Air Force's new jet trainer — which will replace Air Education and Training Command's aging T-38 Talons — after a string of developmental delays pushed the aircraft's Milestone C decision to November 2023. According to the 2018 contract worth $9.2 billion, Boeing will provide 351 Red Hawks, simulators and ground equipment.

"Our focus right now is delivering on our current contract, but we're also looking ahead to see how we can use this innovative trainer to satisfy other needs," Rick Lemaster, regional sales and marketing leader in the Middle East at Boeing, said during a press briefing at the International Defence Exhibition on Feb. 21.

Boeing is talking with customers — including in the United States and internationally — about how the company's work on the T-7A can be used to provide additional capabilities, he added.

In 2021, the Air Force's Air Combat Command released a request for information for what it is calling the Advanced Tactical Trainer. According to the RFI, the aircraft needs provide initial tactical training, serve as adversary — or red force — aircraft and serve as a training surrogate for current and future Air Force fighter jets.
The tactical trainer would give the service a reconfigurable cockpit as well as some additional capabilities that would enable the trainer to communicate with other airplanes in the Air Force's inventory, said Ray Handy, manager for business development for the T-7A at Boeing.

Handy noted that Boeing sees the Advanced Tactical Trainer as "a derivative" of the Red Hawk.

"Boeing is interested in and we are responding back to the Air Force for that program," Handy said Feb. 22 on the sidelines of the conference.

The U.S. Navy is also interested in its own Tactical Surrogate Aircraft to replace its T-45 Goshawk trainers and published a Sources Sought Notice in 2021 — which Boeing plans to respond to, Handy said. Like the Air Force's latest request, the sea service's main objective is to have reconfigurable cockpits, he added.

"As we look at what that capability requires, this would fit very nicely to the rest of the world," he said. "This would be an application that would be relevant to other air forces around the globe, including [the Middle East]."

Because the T-7A was engineered and developed using digital engineering tools and model-based designs, making derivatives of the aircraft in the future would be a streamlined process, Handy noted.
"That makes it something that we can derive using digital tools to quickly adapt to different configurations," he said.
Topics: International