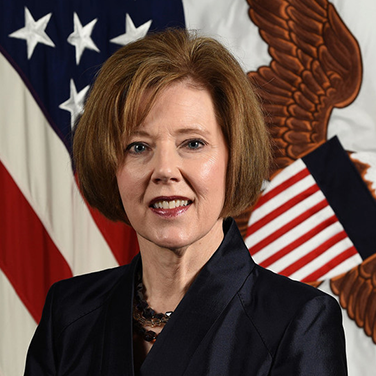 Government Keynote - Hon. Lisa Hershman

Chief Management Officer, Department of Defense
UPCOMING EVENT
iFEST 2020 Online Conference
Bio
Ms. Lisa W. Hershman is currently Chief Management Officer of the Department of Defense.
Ms. Hershman is a recognized thought leader in business transformation who brings extensive private sector expertise to her service in the Department of Defense. She is the principal management officer for the Secretary and Deputy Secretary of Defense responsible for delivering optimize enterprise business operations to assure the success of the National Defense Strategy.
Ms. Hershman is responsible for ensuring that business transformation policies and programs are designed and managed to improve performance standards, efficiencies and effectiveness among the Office of the Secretary of Defense (OSD), the Services, Combatant Commands, and Defense Agencies and Field Activities. Additionally, she oversees the collection and management of common, enterprise-wide data sets to drive best decision-making throughout the Department.
Ms. Hershman is a charter member of the Office of Management and Budget's (OMB) Performance Improvement Council, and serves as the Performance Improvement Officer for the Department of Defense. She also serves as the Cross-Agency Priority goal leader for Category Management and Workforce of the 21st Century in support of the President's Management Agenda.
Prior to her service to the Department of Defense, Ms. Hershman was Founder and CEO of The DeNovo Group, a business transformation and process management consultancy. She is the former CEO of Hammer and Company, serving as the successor to the late Dr. Michael Hammer; the MIT icon, best-selling author and founder of the field of business process reengineering. Ms. Hershman is co-author of the internationally acclaimed business book, Faster Cheaper Better, with Dr. Hammer and has been featured in BusinessWeek, Forbes, Fox Business News, and Investors Business Daily.
In addition, Ms. Hershman served as Senior Vice President of Operational Excellence at Avnet, a global distributor of electronic components and technology systems. As the executive in charge of transformation and customer experience in 72 countries, her work was honored with the Avnet Corporate Chairman's Award. Ms. Hershman began her career with General Electric, where she managed a portion of the Seawolf submarine program.
Her civic engagement includes serving as the 2017 Chairwoman of the Scrum Alliance, Vice Chair of the Indiana Commission for Higher Education, and as a member of Ball State University's Miller School of Business Entrepreneurial Education Advisory Council.
Ms. Hershman earned her engineering and industrial distribution degree from Clarkson University and has studied innovation with MIT and IMD and finance with Cornell.