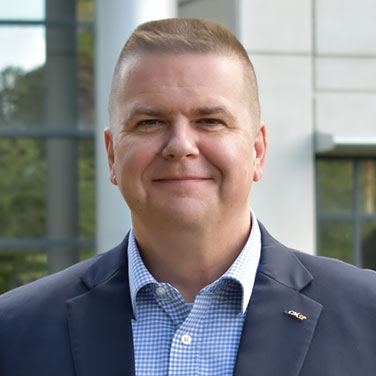 Dr. David "Fuzzy" Wells

Interim Director, IST, School of Modeling, Simulation and Training, University of Central Florida
UPCOMING EVENT
NTSA February Webinar - Modeling and Simulation: Expanding Our Profession
Bio
Dr. David "Fuzzy" Wells is the Interim Director of the University of Central Florida's School of Modeling, Simulation, and Training. He is responsible for overseeing the school's core functions and its research and education departments: the Institute for Simulation & Training and UCF's M&S Graduate Programs. Before assuming his current position, Dr. Wells was Director of U.S. Indo-Pacific Command's Cyber War Innovation Center where he built the first combatant command venue for cyber testing, training, and experimentation; managed the Command's joint cyber innovation & experimentation portfolio; and executed cyber range testing and training events for service, joint, and coalition partners.
A retired Air Force (AF) officer, his past assignments include: Chief Scientist for Research and Development at the Joint Warfare Analysis Center; Chief of Operations Assessment at AF Central Command's Combined Air & Space Operations Center; Chair of the Operations Research Working Group, Director of Modeling & Simulation (M&S) Education and Assistant Professor of Computer Science at the U.S. Air Force Academy; AF M&S lead for U.S. Joint Forces Command's Millennium Challenge experiment while at the AF Agency for M&S; and Prime Warrior Course Director and AF lead for the Prairie Warrior exercise while at the AF Wargaming Institute.
Dr. Wells was the first AF officer to obtain a Ph.D. in Modeling, Virtual Environments, and Simulation from the Naval Postgraduate School. He also earned the first M.S. in Modeling & Simulation from the AF Institute of Technology. He is a Certified Modeling & Simulation Professional Charter Member.