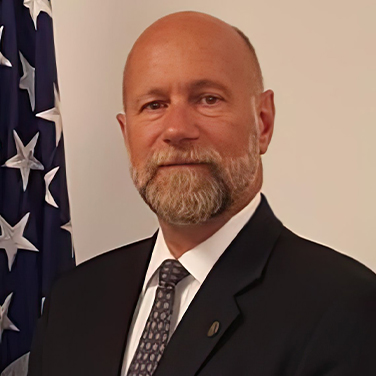 Fred Engle

Director, Military Training, Office of the Assistant Secretary of Defense for Readiness
UPCOMING EVENT
MODSIM World 2023 : GOVERNMENT KEYNOTE ADDRESS
Bio
Mr. Engle is the Director, Military Training, in the Office of the Assistant Secretary of Defense for Readiness, Office of the Secretary of Defense (OSD). In this role, he oversees the development of policies and plans for military training and training capabilities. His responsibilities include Service and joint training policy, cyber training policy, training capability modernization, and enabling access to the land, air, and sea live training domains. He co-chairs the planner-level Defense-wide Military Training Capabilities Group. During the 2021 transition of administrations, he served as the Acting Deputy Assistant Secretary of Defense for Force Education & Training.
Mr. Engle leads a team of subject matter experts responsible for analyzing training readiness and advocating for interoperable training. In 2020, his team produced the Secretary of Defense Joint Operational Training Infrastructure Strategic Plan, the first DoD enterprise-wide plan for multi-domain and interoperable training capabilities. Mr. Engle co-chairs the NATO Training Group's Steering Group and works with the Swedish Ministry of Defence to implement the 2019 U.S.-Sweden bilateral training MoU.
Mr. Engle is a retired U.S. Navy Master Chief Submariner with 30 years of active and reserve service specializing in integrated submarine and strike group operations. His military awards include two Defense Meritorious Service medals, three Navy Commendation medals, and the enlisted Submarine Warfare Insignia (Silver Dolphins). In 2015, he was awarded the OSD Medal for Exceptional Civilian Service for his work on the Secretary of Defense Nuclear Enterprise Review.
Prior to assuming duties in the DoD, Mr. Engle was a researcher and curator at the Smithsonian Institution where he led satellite remote sensing projects. He was an instructor at George Mason University where he taught a writing intensive course on environmental policy in developing countries. He holds an AS degree in Marine Technology from Florida Institute of Technology, BA and MA degrees in Geography from the State University of New York at Albany, and he is a Fellow of the Royal Geographical Society in London. Mr. Engle also leads a technical SCUBA diving and maritime archaeology not-for-profit/non-governmental organization specializing in surveys of WWI and WWII Battle of the Atlantic shipwrecks.