An NTSA EcosySTEM of Learning Webinar: Engaging Industry in the Curriculum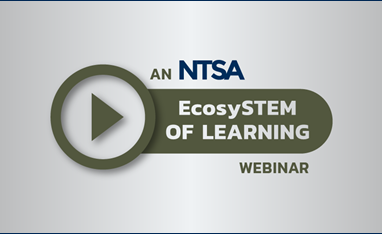 7/11/2023 4:00 – 4:45 pm EDT

Event Type : Webinar
Event Code : 31B0
Description
Watch the recording of this month's webinar!
Do you want to learn how to engage with Science, Technology, Engineering, and Mathematics (STEM) experts from your community? Or perhaps you want to learn how to collaborate with local companies to help aid your students in gaining innovative experiences and knowledge? Join NTSA's EcosySTEM of Learning in its first webinar to learn from experts in the field on how to engage with partners and tie these meaningful experiences back into the classroom and to your curriculum.
Take advantage of this unique opportunity. Moderated by the expert educator and DoD STEM Ambassador Amy Monahan, join the conversation with panelists Wendy Hales Mora of Southwest, Emily Sherkow of Naval Air Warfare Center Training Systems Division, and Parks Easter of Exolith Lab and find out how to bring these enriching topics and experiences into the classroom!
Panelists
Wendy Hales Mora, Southwest, Pilot, D225 Recruitment Team and Adopt-a-Pilot Ambassador
Parks Easter, Exolith Lab, Chief Geotechnical Engineer/Outreach Coordinator
Emily Sherkow, STEM Outreach Program Manager and Operations Research Analyst
Moderator: Amy Monahan, Ed.S., STEM Specialist at Volusia County Schools and DoD STEM Ambassador