I/ITSEC NEWS: Services in 'Wild West' of Developing Common Virtual Training Environments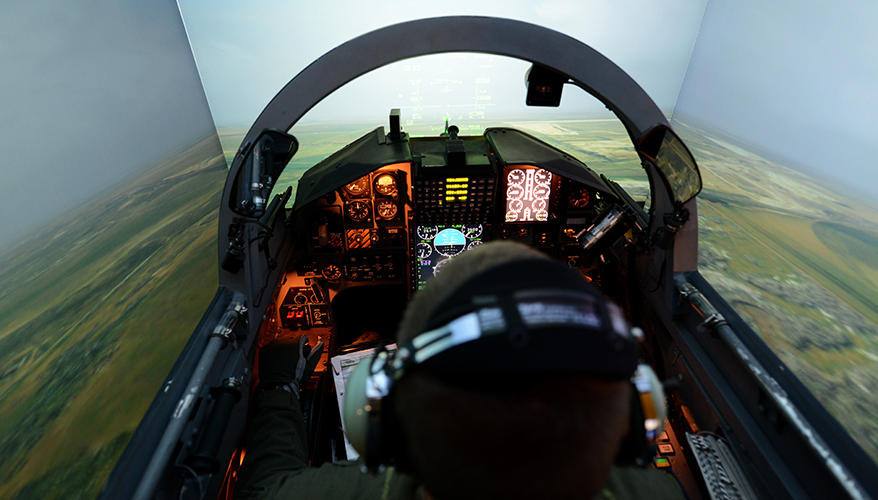 Air Force photo
ORLANDO, Florida — The military services are racing to develop interoperable simulated training environments, and they are taking different approaches to solve the problem. That translates to opportunity and risk, said one vendor.
CAE is the prime contractor for the Air Force's Simulators Common Architecture Requirements and Standards program, or SCARS. The goal is to develop a common architecture to integrate the service's flight simulators and ultimately facility joint, multidomain simulated training.
CAE demonstrated a training simulation at the National Training and Simulation Association's annual Interservice/Industry Training, Simulation and Education Conference in Orlando. NTSA is an affiliate of the National Defense Industrial Association.
"What it is really is a vision or a concept of where we can go with wide SCARS adoption," Joseph Grady, CAE's Army business development lead, said earlier this week.
"What we want to convey is … once all of the simulators, the assets, the training devices are in that common cyber environment and common standards environment so they communicate effectively — that's when you can really get to joint all-domain operation," he said. "It's really going to have to be cross-service."
The exercise in CAE's Joint All-Domain Operations simulator involved synchronizing space, cyber, air, land and sea assets to neutralize an enemy force in advance of an amphibious landing on an island. CAE spent about four days programming the exercise, Grady said.
"So, this is a very initial first step right of getting our systems to talk together," he said. Once SCARS is more developed and can support more systems, the exercises can scale up in complexity.
SCARS, which is Air Force owned, is currently working with the joint simulation environment, or JSE. That is the virtual testbed designed to certify the F-35 fighter jet for full-rate production and is also now serving as a flight trainer for the aircraft. CAE's contract involves installing on-premises hardware at Air Force installations. Dell is the partner for the hardware, and Leidos is the partner for the operation centers under the SCARS contract, Grady said.
As CAE builds out SCARS, it is conducting demonstrations like the one at I/ITSEC to build momentum and convince the services that the program is the right solution, he said.
"You can't get to joint all-domain training without a common set of standards," he continued. "If each service goes and contracts a different set of standards, we'll just be back in the same place that we are."
Getting the services and the Defense Department to agree to common standards is no small task.
"It is a bit of a Wild West," Grady said.
For example, the Army is approaching its Synthetic Training Environment "from a different angle, or maybe a different set of standards," he said.
"They developed a lot of technology and devices, with kind of an eye towards building the synthetic environment on the back end, whereas SCARS and the Air Force approach was more, 'We're going build the foundation first,'" he said.
CAE is hoping that the other services see the merits to SCARS, but there is a risk that one of the other services could come up with a different solution and leave the program behind, he said.
It could come down to a matter of "who gets out of the gate first" and matures their technology to the point where the other services stop their efforts and shift over, he said.
Topics: Training and Simulation