Air Force Putting Software First for Next-Gen Air Dominance (Updated)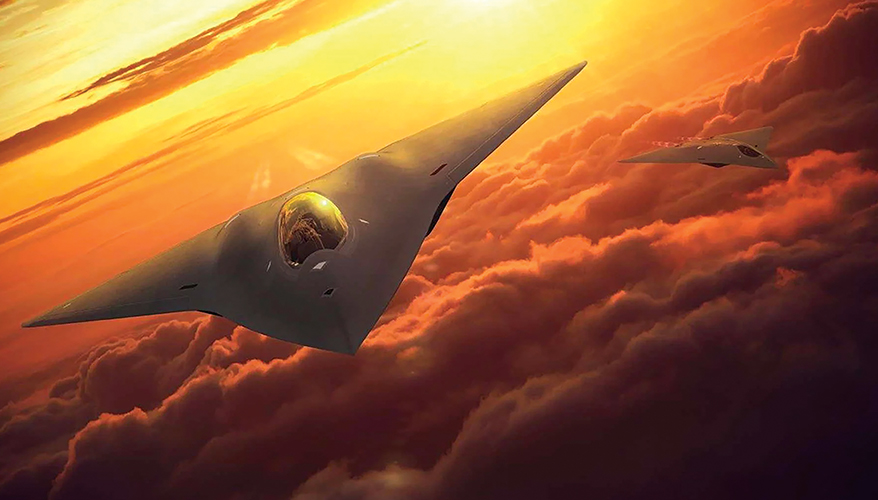 NGAD concept artwork
The Air Force already determined that the replacement for the F-22 Raptor will not be a single plane, but a portfolio of next-generation capabilities to face warfare in a contested environment.
Now, Pentagon leaders say to reach air dominance by the end of the decade, the service needs to shift focus from the hardware to developing software.
The Next-Generation Air Dominance program — known as NGAD — centers around building a new sixth-generation fighter aircraft with an unknown number of manned and unmanned systems among its ranks.
Air Force Secretary Frank Kendall recently announced the fighter — which would be similar to the F-22 or F-15EX — has moved into the development phase.
But the manned fighter may not be the linchpin for air dominance, according to a new report published by the Hudson Institute. Without uncrewed systems and sensors for situational awareness, a manned fighter "would be unlikely to deliver more than an incrementally improved version of today's fighters," the report posited.
"As counter-air sensors and missiles are easier and less expensive to advance than manned aircraft, whatever edge manned NGAD aircraft might provide would be fleeting and evolving them to stay ahead of adversaries would likely be unaffordable and late-to-need," according to the report.
The strength of the NGAD will come from combining the power and flexibility of the manned and unmanned systems and their associated sensors in what's called "teaming."
"It is the idea like a sports team, where each individual member of the team is born and grows up and is developed independently of other members of the team," Bryan Clark, a senior fellow at the Hudson Institute and co-author of the report, said during a panel discussion. "They come together in a particular formation to conduct a set of plays. They may then come apart and either form different formations down the road or even join different teams."
That partnership and cohesion boils down to building and integrating better software, said Kendall. The autonomous capability needed for uncrewed aircraft is enabled by artificial intelligence.
It's a capability race that the Air Force doesn't want to lose, Kendall said.
"I'm not going to say anything that you don't know is true about software. It's hard. But nevertheless, I think we can get to a meaningful level of initial capability," he said during a recent Air Force Association event.
Earlier this year, Kendall announced seven "operational imperatives" for the Air Force. The third is "defining the Next Generation Air Dominance system-of-systems."
An operational imperative team is working on this objective to develop new concepts for fighting using collaborative combat aircraft alongside a manned fighter, said Timothy Grayson, special assistant to the secretary of the Air Force.
"On each of these teams, there is an operational lead as well as a capabilities lead, and that's to be able to iteratively design new warfighting concepts at the same time we look at new capabilities," he said during the Hudson Institute panel.
The road to developing and acquiring the software needed is going to be a long one, but it starts with changing the service culture, said Air Force Chief of Staff Gen. Charles "CQ" Brown Jr.
It could be difficult for the service to accept that certain capabilities will never be finished, he said during a recent Hudson Institute event.
"You don't have a ribbon cutting for software or a ceremony like you would for an airplane as it rolls out because it's always being updated," he added.
Accepting a new way of doing business is necessary, and industry can help. Defense companies can help ease the culture change by partnering with the Air Force to build open systems architecture, Brown added.
"It drives competition for mission systems that as long as it fits the form factor, it fits the size of the black box, you can adapt it very quickly," and any company can do it, he said.
Meanwhile, leadership has recognized the need for change, but progress has been slow.
The family of systems approach that NGAD is using was called for years ago, said Mike Holmes, retired Air Force general and senior advisor at the lobbying firm Roosevelt Group.
He pointed to "Air Superiority 2030," an Air Force study published in 2016. It warned that there would be resistance to the traditional approach of taking 30 years to build one super advanced platform.
It found that approach was too slow and too costly, he said. Another study shortly after revealed a balance of manned and unmanned systems and offboard and onboard sensors would be key to air dominance.
"The combination of those two things left the Air Force and Air Combatant Command with a desire to pursue a family of systems and sensors and connection that can be acquired in a new and different way in order to meet the timelines," he said during the panel.
One key difference for the program office that supports NGAD is that personnel can start buying sensors and payload capability independently of the platforms, Grayson said.
The mission systems can be purchased "in coordination with the platform and what the platform needs, but it's not all done through one contract and one vendor. It's one vertically integrated thing," he said.
The communication between systems that have to work together is something the Air Force struggles with maybe more than the other services, Grayson said. The service needs "glue capabilities," which includes technology like communication relays that help bridge the gap between platforms and the information they need.
The program office is looking at building off the work that's already been done on the advanced battle management system, or ABMS — the Air Force's contribution to the joint all-domain command and control project that aims to connect sensors and shooters.
"I don't want to necessarily own every single data link in a program like ABMS, but I need to be able to talk to all of them, or at least most of them," he said. "So whereas I might have a tactical data link being developed within a platform program office, I need a way to first connect and interoperate with that, as well as build possible relays and gateways that can go connect with other things."
The next-generation software needs can be boiled down to some key fundamentals of battle management, or software-defined nodes of battle management, he said. Multiple program offices can work together to build solutions that provide those fundamentals so they will be interoperable on the platform.
"I've got to know what my tasks are. Know what assets I have, I know how to prioritize those tasks, assign them to assets and send out commands," he explained.
A new acquisition approach could also change how the service trains, said Dan Patt, senior fellow with Hudson Institute's Center for Defense Concepts and Technology and co-author of the NGAD report. In a typical program, warfighters would train to be ready for a specific platform when it was delivered.
If the types of platforms and sensors aren't set in stone before training, it can be difficult to train with that variability in assets, he said during the June panel.
To help with the uncertainty, the Air Force could create positions for a combat aviation "geek squad," Grayson said. They could also do mission configuration support, he added.
"We have the closest thing to that today and things like software engineering groups … but it's really a new specialty that we really need to start thinking about developing the support for this kind of operation," he said.
The family of systems is a different strategy from the system of systems, he noted. Prominent program failures across the Defense Department came about because the requirements confined the program to one vendor and one set of requirements, he said.
"You can't predict to that level of precision that you need to define that system of systems, so somewhere in between are models that are maybe hybrids that get to this vision that we're talking about," he said.
Ultimately, the new acquisition approach could promote innovation, said Patt.
It's different from the modularity the F-35 has, he said. If the Air Force decides it wants something new for the aircraft, "there's a card that you can replace," but you still had to define the interface of that card in detail upfront.
"What you're talking about here is really a much more flexible model. You keep that fluid, you keep it in software to allow change down the road. That seems really exciting … if we can pull that off, that seems like a powerful capability."
These capabilities will not come cheap. Kendall told the House Armed Services Committee earlier this year that NGAD would cost "multiple hundreds of millions of dollars" per aircraft.
The 2023 budget request included $1.7 billion for the program, including $133 million in research, development, testing and evaluation. The service even requested cuts of more than 30 F-22 Block 20 aircraft to shift more funding to NGAD.
All the Air Force's planning for the next-generation aircraft assumes that Congress will go along, which is not guaranteed. Some lawmakers have raised concerns about the high costs of the program, and the gap between fighter aircraft that it could produce, according to a Congressional Research Service report.
"Historically, programs that have had significant developmental cost growth, like the F-22 Raptor and the B-2 Spirit, have seen the number of aircraft reduced," noted military capabilities and programs analyst John R. Hoehn in the report.
One example of hesitancy from the legislative branch is Rep. Adam Smith, D-Wash., chairman of the House Armed Services Committee.
"I'm always reluctant to put a whole lot of chips in the middle of the table when you don't know for sure, and the NGAD seems like a whole lot of chips going into the middle of the table," Smith told defense reporters recently.
However, Kendall said the time for experimentation is over.
"Some of our average aircraft are 30 years old, and we have some aircraft that are not tailored to the high end fight at all," he said. "The people who manage and operate those aircraft do a fantastic job. We're very proud of them. But we're going to have to get to the next generation."
Correction: A previous version of this story misidentified the F-15X.
Topics: Air Power