SPECIAL REPORT: Annual Survey Shows Growing Worry Over Health of Industrial Base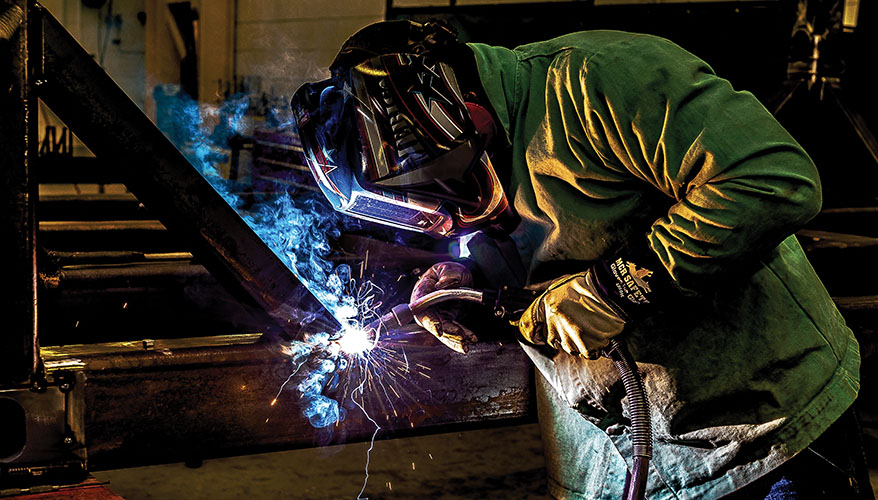 Defense Dept. photo
This is part 1 of a 3-part special report on the health of the defense industrial base. Click here to download the full Vital Signs 2023 report.
The National Defense Industrial Association has issued Vital Signs over the last three years to encourage conversations at all levels of government and among Americans interested in national defense about the necessary policies and investments required to maintain the superior readiness of the U.S. defense industrial base.

The defense industrial base readiness policy goal is straightforward: to ensure warfighters have the platforms, services and technologies they need so they never engage in a fair fight against any competitor.

This goal is personal for many working in industry. From the largest defense contractors to the smallest defense technology start-ups, many either served in the U.S. military or have family and friends who are serving, and therefore see their work to ensure U.S. industrial readiness as national service from a different angle.

Unfortunately, from a public policy perspective, the gap is widening between the intentions and the outcomes of current policies and processes to improve defense industrial readiness. The capacity of the U.S. defense industrial base to grow its output and to fulfill a surge in military demands stands as a key test of its health and readiness.

Currently, U.S. public policy is not oriented to support a defense ecosystem built for peer conflict. This was a troubling truth during the last 20 years of asymmetric conflict against nonstate actors. In the return of great power competition, this is an unsustainable dynamic.

While the United States talks about the re-emergence of great power competition, China is advancing its military capabilities and harnessing the power of strategic industrial policy. In 1985, China's GDP was only 15 percent of U.S. GDP. In 2016, China surpassed the United States, and by 2021, China's GDP was 118 percent of US GDP, adjusted for purchasing power.

From this position of economic strength, the People's Republic of China is taking a disciplined approach to re-order the international system — its rules, norms, standards and values — on terms favorable to itself. It is steadily increasing its military capabilities and capacity, including modernizing its nuclear capabilities; honing sophisticated strike, space and cyber capabilities; and building out its navy in "one of the most remarkable and strategically disruptive global defense spending trends in the last two decades," according to the "Fiscal Year 2020 Industrial Capabilities Report to Congress" issued by the Defense Department.

The goal of China's industrial policies, according to the Defense Department report, "2022 Military and Security Developments Involving the People's Republic of China," is to expand "the private sector's participation in the PRC's defense industrial base and supply chains as well as improving the efficiency, capacity and flexibility of defense and civilian industrial and manufacturing processes."

Conversely, current U.S. defense spending is not reflecting the stability and sufficiency required to prevail in great power competition. Over the last 14 years, the Defense Department's budgets have been subject to significant disruption and delays. In addition, from 1985 to 2021, national defense spending dropped from 5.9 percent to 3.3 percent of U.S. GDP.

Uneven and unpredictable budget demand signals consistently fail to produce the results bipartisan policymakers in the executive and legislative branches want because they prevent proper planning for optimized capital investments and supply chains. In addition, the parts of the budget most crucial to reorient the department to prepare for, deter and — if necessary — respond to peer conflict are the accounts most vulnerable to being cut or squeezed during budget instability: research and development; operations and maintenance, including funding for crucial training, military exercises and sustainment of platforms and equipment; and procurement.

One of the biggest challenges will be aligning and sequencing resourcing priorities for peer conflict over the next 15 years. For the last 40 years, the United States has benefited from a technological competitive advantage that afforded it unimpeded logistics and power projection as well as military dominance in every operational domain. A return of great power competition changes these dynamics.

Conflict with one or more near peer competitors will likely involve asymmetric attacks on U.S. critical infrastructure, contested and degraded logistics and communications and dispersed U.S. units fighting directly against adversaries with platforms, systems and munitions of roughly technical parity. This means the department needs to balance resourcing requirements for the future character of war by integrating and scaling emerging disruptive technology with resourcing requirements necessitated by the inherent nature of war.

That requires consistent, steady policy and financial investments to increase the capacity and modernization of our defense infrastructure and to accelerate advancements in the capabilities of our nuclear triad; major air, land and sea platforms; and precision-guided munitions. Serious policy disagreements over balancing the pacing and sequencing of the department's finite resources are significant macro-level challenges for industry to navigate.

Compounding these challenges, the U.S. defense industrial base resiliency required to sustain the United States in great power conflict was sacrificed as part of the federal budget cuts of the 1990s. The return of great power competition necessitates that the United States rebuild its strategic deterrence. The 2022 National Defense Strategy emphasizes deterrence by resilience and defines resilience as "the ability to withstand, fight through, and recover quickly from disruption."

The powerhouses of industrial readiness — an experienced workforce; stable and predictable budgets; diversified and modern infrastructure; manufacturing innovation; and sufficient, including idle, capacity — have all atrophied under the combined transition to a services-based economy with a premium on just-in-time commercial supply chains. This is the result of a worldview that no longer contemplated peer conflict nor wanted to resource an industrial footprint required to prevail in one.

In addition, the U.S. macro-economic industrial conditions required to support another national level military build-up do not exist. In modern history, the United States has consistently responded after conflict erupts. Furthermore, during the major defense industrial base build-ups before World War II and during the Carter and Reagan administrations, the American economy was able to surge the capacity of its commercial industrial base to augment the specialized expertise of the defense industrial base.

This is not currently a viable option. The U.S. defense industrial base lost 2.1 million workers from 1985 to 2021. In addition, the Defense Department bluntly reported in the "Fiscal Year 2020 Industrial Capabilities Report to Congress" that the "[m]achine tool industry laid the groundwork for the mobilization miracle of World War II … [and] America has allowed its machine tool sector to turn from a national asset into a national security vulnerability."

In this operating environment, NDIA member companies have a more pessimistic view about defense contracting business conditions improving in 2023 compared to general business conditions. U.S. defense industrial base companies must operate under the same conditions as any other company in the global economy.

Vital Signs 2023 survey results showed that while 21 percent thought general business conditions could get better in 2023, only 13 percent thought defense contracting business conditions could improve. This is pointed feedback from an industry currently responding to surge demand signal due to the illegal invasion of Ukraine and quietly preparing against the darkening security environment in the Indo-Pacific.

Vital Signs 2023 survey results are unambiguous regarding industry's pain points. Specifically, NDIA member companies are emphasizing to government policy makers and external audiences that: the federal acquisition process is growing more — not less — cumbersome; the lack of budget stability is breaking companies and causing significant workforce uncertainty; and the challenges of finding and retaining talent are impacting even the most strategic defense programs.

In addition, inflation was specifically highlighted as a pressing issue. This was anticipated with inflation rates at the highest levels in 40 years and interest rates at the highest levels in 15 years, with the potential for additional increases in 2023. High inflation rates increase the cost of capital, restrict both demand and supply for commercial loans and heighten the specter of recession conditions.

Of special note, 70 percent of Vital Signs survey respondents noted the continued negative impact inflation is having on labor costs, and NDIA member companies also highlighted inflation would exacerbate their challenges with hiring and retaining skilled workers.

Most NDIA member companies — 87 percent — believe nothing is going to change. Over the next year, 58 percent believed defense contracting business conditions would be about the same and 29 percent reported business conditions would worsen. Put another way, 87 percent believed that despite the sense of urgency to reposture the defense industrial base to deter and, if needed, decisively prevail in peer conflict, nothing is going to change.

NDIA and its Emerging Technologies Institute believe change can happen and will therefore spend the next year working with its members through divisions, conferences and chapter events on solutions to priority policies that will move the needle for industry.

In 2023, NDIA is committed to working on securing budget stability and sufficiency; advancing Defense Department digital modernization; facilitating foreign military sales modernization and technology integration; restoring industrial readiness, capacity and infrastructure; and supporting the development of more resilient supply chains.
NDIA will also integrate acquisition reform and workforce development as cross-cutting issues into each of these policy priorities.

The current U.S. defense industrial base is not postured to be resilient in great power competition. Whether the United States is successful in deterring conflict for five years, 15 years or longer, when conflict erupts — as world history tells us it will — national leaders will either have credible or constrained response options from the U.S. defense industrial base based on the policy, authorities and resourcing investments they inherit from this current generation of leaders serving in the executive branch, the congressional branch and industry.

Jennifer Stewart is executive vice president for strategy and policy, and Robbie Van Steenburg a regulatory policy associate, at NDIA.
Coming soon - Part 2: Defense Companies Face Post-Pandemic Workforce Shortages
Coming soon - Part 3: How Immigration Reforms Can Help Counter China
Topics: Defense Contracting, Industrial Base, Civilian Workforce, Supply Chain