Army Hopes AI Will Give Soldiers An Information Advantage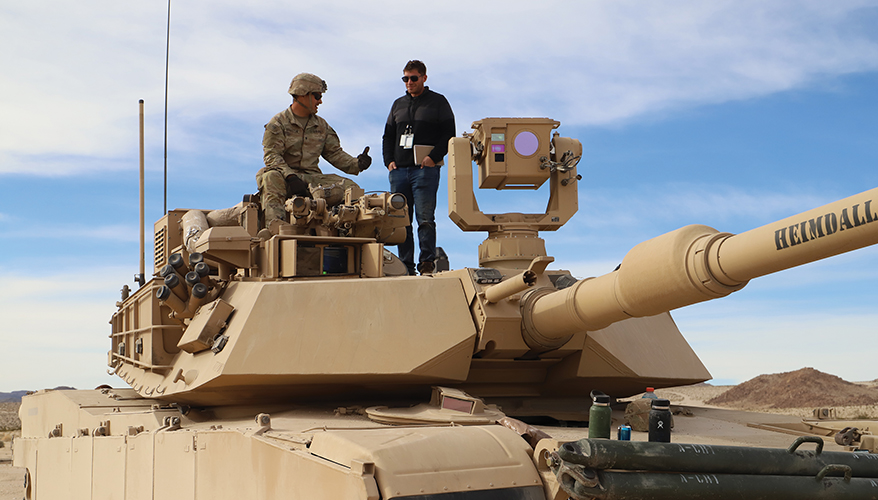 iStock illustration
The Army in recent years has introduced the concept of "information advantage," in which soldiers have the ability to make decisions and act faster than their adversaries. The service now believes artificial intelligence is the key to making the strategy a reality.
Artificial intelligence has exploded in popularity and capability, with large language models such as ChatGPT and other AI systems becoming more readily accessible to the general public. Both in industry and the Defense Department, many are exploring the possibility of utilizing the technology for military applications, and the Army is no exception.
Lt. Gen. Maria Barrett, commander of Army Cyber Command, said AI has the "highest potential to really, really drive change … but it also presents for us very, very real challenges as well across the information dimension."
Army Maj. Gen. Matthew Easley, the deputy principal information operations advisor in the office of the undersecretary of defense for policy, said the service is undergoing a "migration from our legacy information operations, of how do we combine different information effects to create the synergies we want for our operations" to the new concept of information advantage.
The goal of the concept is to ensure the Army has the "initiative" in the information environment and "can see ourselves, know ourselves and act faster," Easley said at an Association of the United States Army event in June. Information advantage involves five key functions, he said: enabling decision-making; protecting soldiers and the Army's information; educating and informing domestic audiences; informing and influencing foreign audiences; and conducting information warfare.
"All five of those areas can use artificial intelligence and machine learning to some effect," he added.
Easley helped establish the Army's AI Task Force in 2019. But during his time there the team ran into two challenges in adopting AI across the Army, he said: migrating to a hybrid cloud environment and mobile devices.
The Army will "continue to have lots of legacy data centers, but as we need to surge, we need to move around the world — cloud environments make this much, much easier for us to do global operations," he said. For fiscal year 2024, the service is requesting $469 million for its transition to the cloud and investment in its data environment, according to Army budget documents.
Barrett said at the AUSA event: "You do not get to AI and machine learning without having that repository of data." Army Cyber Command has made significant investments in its big data platform, doubling "the amount of data flow that's going into our platform, double the parsers, double the storage of what we're storing right now," she said. "We're continuing on in that trajectory, and all that means is we're at a point where we are definitely postured to start taking advantage of" AI capabilities.
For the command, AI would mostly be used for network defense, but there are applications in the "information dimension" as well, she said. "What does it mean to bring in all sorts of different feeds … and really understand that information baseline of a particular environment, so now you can understand when it changes and how it is changing and where it is changing. All of this is tremendously helpful to us, and I only see this expanding."
The proliferation of mobile devices has greatly expanded the amount of potential feeds, but can also expand an adversary's potential targets, Easley said. These devices "come with a lot of features, [and] they come with a lot of vulnerabilities, too. We have to think and use artificial intelligence … both to defend ourselves as well as just to manage the huge amount of data that we have there."
And in a potential conflict, AI could help soldiers sort through all the data and get the right information "to the right arrow" in the service's proverbial quiver, Army Chief of Staff Gen. James McConville said during a June media briefing.
For fiscal year 2024, the service is requesting $283 million for AI and machine learning, which would include research-and-development funds for enhanced autonomy experimentation, as well as financing AI/ML-enabled program activities for systems like the Integrated Visual Augmentation System, Optionally Manned Fighting Vehicle — recently redesignated as the XM30 Mechanized Infantry Combat Vehicle — Remote Combat Vehicle, TITAN ground station and "smarter sensors with edge processing," according to Army budget documents.
"We certainly are looking for how we can leverage AI to make our capabilities — both new and under development — more effective," Secretary of the Army Christine Wormuth said during the briefing. In particular, the service has utilized AI targeting programs at its Project Convergence exercises, she said.
Project Convergence is the service's contribution to the Defense Department's joint all-domain command and control concept, which seeks to link sensors and shooters through a network. During the last exercise in late 2022, participants used the Army's Firestorm system, "an artificial intelligence-powered network which pairs sensors with shooters," to send intel to Australian forces participating in the experiment, an Army release said.
McConville said the service is also using AI for predictive logistics. "We're using AI right now to help us kind of predict what we need for parts, and that's a big deal when you get into large armies," he said.
Beyond simple maintenance, predictive logistics also involves the Army's different classes of supply, such as fuel and ammunition "and how we look at consumption and how we can predict where to get the right supplies to where they need to be," said Timothy Goddette, the deputy assistant secretary of the Army for sustainment.
The goal is to plan ahead where those supplies need to go or when maintenance needs to occur "as opposed to reacting," Goddette said during the National Defense Industrial Association's Tactical Wheeled Vehicles conference.
"If the scheduled maintenance is right, but the conditions are wrong — if you're in a low [operations] tempo, how do we change the scheduled maintenance?" he said. "If you're in a hot or cold or corrosive environment, how do you change the maintenance schedule? That's where we probably need to be thinking."
In the digital world, the Army has "to learn how to use data and use data differently," he added. "I'll admit, we haven't quite figured [predictive logistics] out yet. We really do need everybody's help to think through that problem."
Other future applications for AI include talent management and recruiting, McConville and Wormuth said. "There may be ways artificial intelligence can help us identify quality leads or prospects in ways that human beings are not as skilled to do," Wormuth said.
However, McConville emphasized the importance of having a "person in the loop" when utilizing AI.
"It may not be the person that's actually doing all the work, but we're going to see artificial intelligence help us do our jobs better," he said. "But at the same time, we want to have somebody that's saying, 'Fire this weapon system,' or at least be thinking about that."
Barrett echoed McConville's remarks: "Everybody's going to think about [AI] as a machine. But … guess what: everybody who played around with ChatGPT — yeah, it's people feeding that machine."
As the Army introduces AI systems, there are four tasks soldiers can do to help the technology mature properly, Easley said: collect and annotate data; use that data to train the AI models; use the models to see if they're effective; and help improve the models.
The service does a "great job" of collecting data, "but there's still lots of data in the Army that we are not capturing fully … that we can use to train our own large language models," he said. "To make these models effective for our domain, we have to train [them] on our data. So, we have to look at: What is our human resource data? What is our medical data? What is our operational data? What is our intelligence data? How do we use those, in a controlled environment, to make better models?"
And the models have to be rapidly trained and retrained on the Army's data in order to improve, he said. He used the example of a restaurant recommendation algorithm on his phone, and "the reason it's so good is because it's got 10 years of just me telling it what restaurants I like in the world."
While they might receive AI-enabled recommendations in the future, weapon systems will always have a human managing them, but "other systems where it's not as critical … [the] machine can make the decision," Easley said. However, humans will be the ones training the AI to the point where it can be trusted for Army missions, he added. "You don't question your mapping algorithm telling you where to move through the city — you know that that algorithm has better information than you do," he said. But "how do we get the veracity behind the data that we can trust what went into the model, then how the model was trained, and how we're using it? And I think that's all … human endeavor." ND
Topics: Information Technology